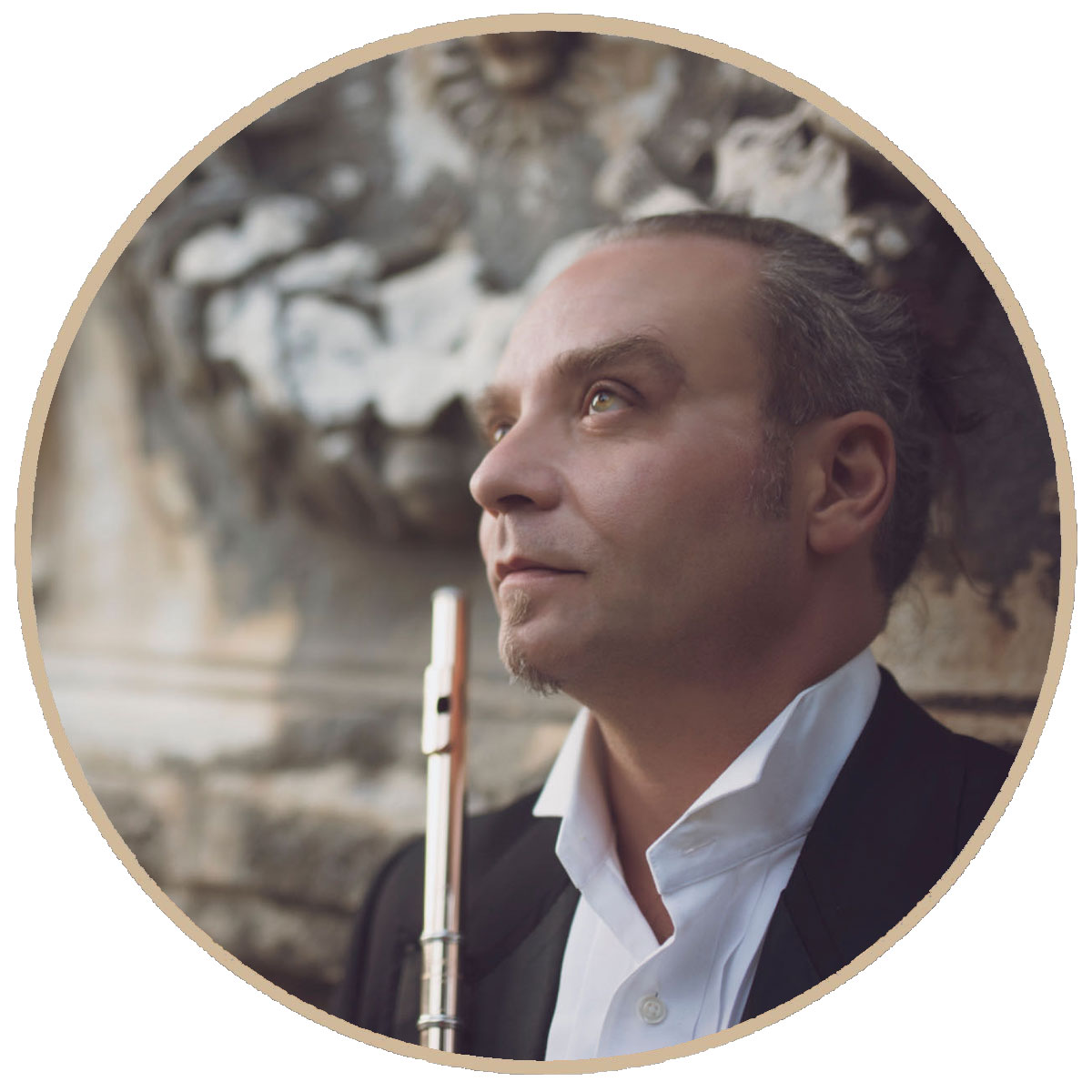 Internationally acclaimed and award winning Flutist, Composer, Educator and Multi-instrumentalist Burak Besir has a diverse career in music that includes main stage performances with professional orchestras, live bands and recording top film and television soundtracks, video games and albums.
Born in Cyprus, Burak received his early classical music education in Cyprus. At the age of fourteen he left his home town and went to mainland Turkey to continue his classical music education at the prestigious Ankara State Conservatory of Music where he graduated with distinction.
Following that, he went to the UK to continue his music career. He attended the Royal Scottish Academy of Music and Drama in Glasgow and received a masters degree as a "solo performer". Here he studied with David Nicholson.
He took the legendary Flutist Sir James Galway's attention at a flute workshop that he attended. This gave him the opportunity to study with Sir James over the years. Later on, as a protegee of Sir James, Burak has appeared as a guest artist at the Galway International Flute Festival in Italy and Switzerland many times. His flute choir arrangements of Mouquet's "La Flute de Pan Op15"and Smetana's "Moldau" and Dvorak "American Suite" are performed by the Galway Flute Choir in Switzerland. Other masterclasses he attended include William Bennett, Jeanne Baxtresser, Robert Dick and Wissam Boustany.
Burak received the UK Young Concert Artist Award in 2003. The award gave him the opportunity to give a number of concerts and recitals in Europe at the distinguished concert halls including Wigmore Hall. Other achievements include, " best performer" award at the Galway International Flute convention (2007), "Arif Mardin Achievement award" and "Best Concerto Performer" award from Berklee College of Music.
Between 2003 - 2008 , Burak held the Principal and Second Chair Flute positions in the Istanbul State Opera and Ballet and at the Istanbul Borusan Philharmonic Orchestra, conducted by G ürer Aykal. During his tenure at the orchestra, he performed at the most prestigious concert halls and festivals in Turkey and Europe.
In 2008, Burak received Berklee College of Music's "World Scholarship" and moved to America. His interest in composing and production led him to come to Berklee College of Music to study Contemporary Writing and Production and switched his focus on composing in addition to his performance and educator positions.
As the founder member of the World Flute Ensemble, he performed at the National Flute Association Conventions in Las Vegas, North Caroline and Chicago. His original compositions and flute arrangements are performed with the ensemble in many other conventions and concerts.
He has also performed alongside the most distinguished Flutists and Musicians such as Jim Walker, Andrea Griminelli, Cladio Barile and Nicola Mazzanti, He regularly gives workshops and masterclasses at the "Beyond the Masterclass with Jim Walker" at the Pepperdine University, Colburn School of Music and Berklee College of Music are some to name.
As a recording artist, his music can be heard on various movies, tv shows, video game soundtracks and albums. He has a collection of over 65 pieces of ethnic woodwind instruments that he uses in his soundtracks and recordings.
Featuring legendary flutist Jim Walker, his album "Passion" for flute and piano was released by Albany Records and received Global Music Awards in 2017.
His Flute Choir Arrangement for Smetana's Moldau was published in Italy by Vigor Music in 2017.
Burak also performed with Video Game Orchestra and toured at the East and West PAX game conventions. He performed at "The Legends of Zelda" live concert in Las Vegas and performed "Lord Of The RIngs" Suite at the Boston Symphony Hall. He performed at the 86th Oscar, the very first live concert. Here he had the opportunity to share the stage under the conducting of the legendary Composers John Williams, Alexandra Desplat, Thomas Newman. During the 2021- 22 season, Burak also toured with famous Persian Singer "Googoosh" as part of 21WorldTour in Europe, Middle East, America and Canada.
He is currently living in Irvine, CA with his family.