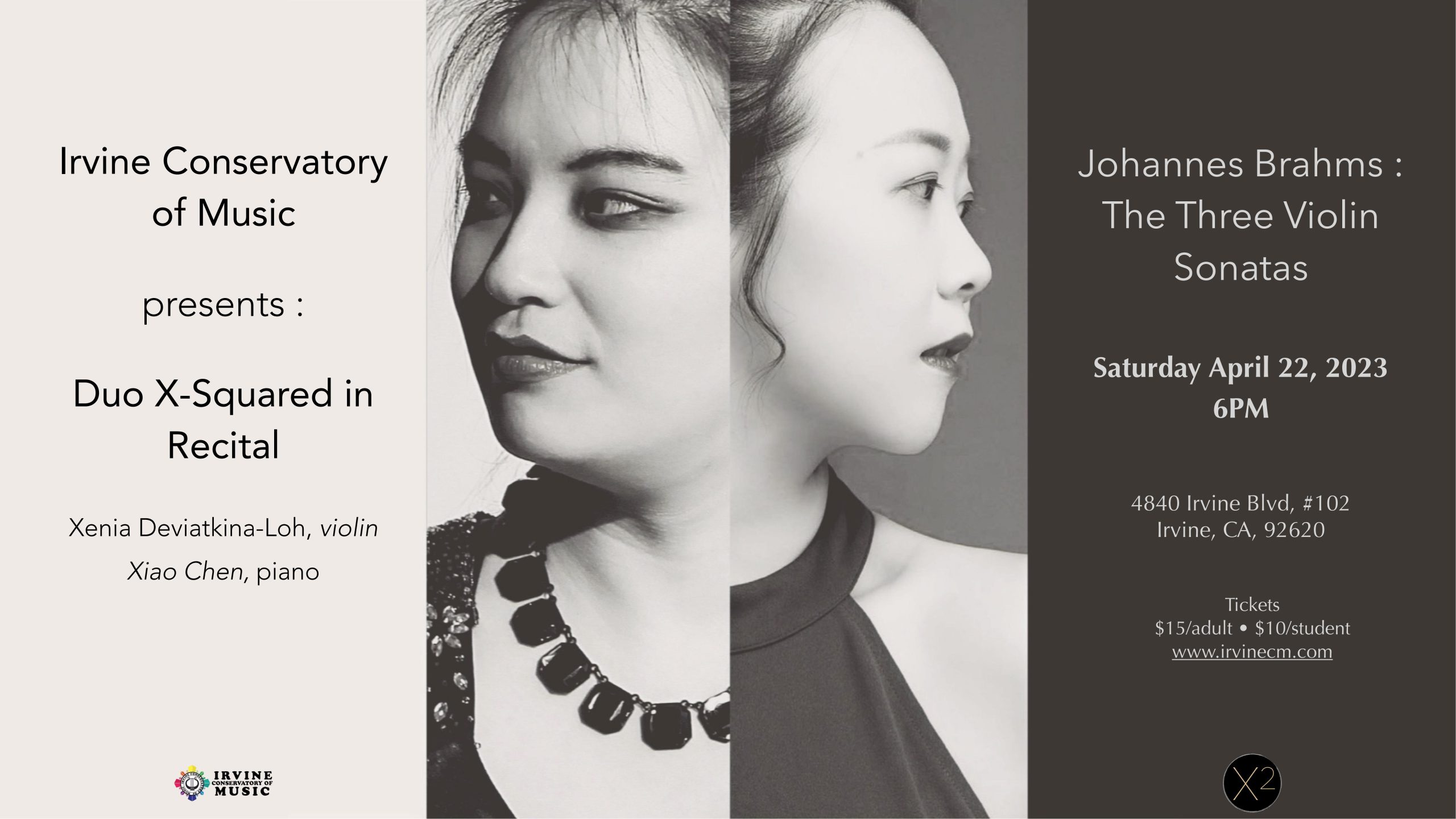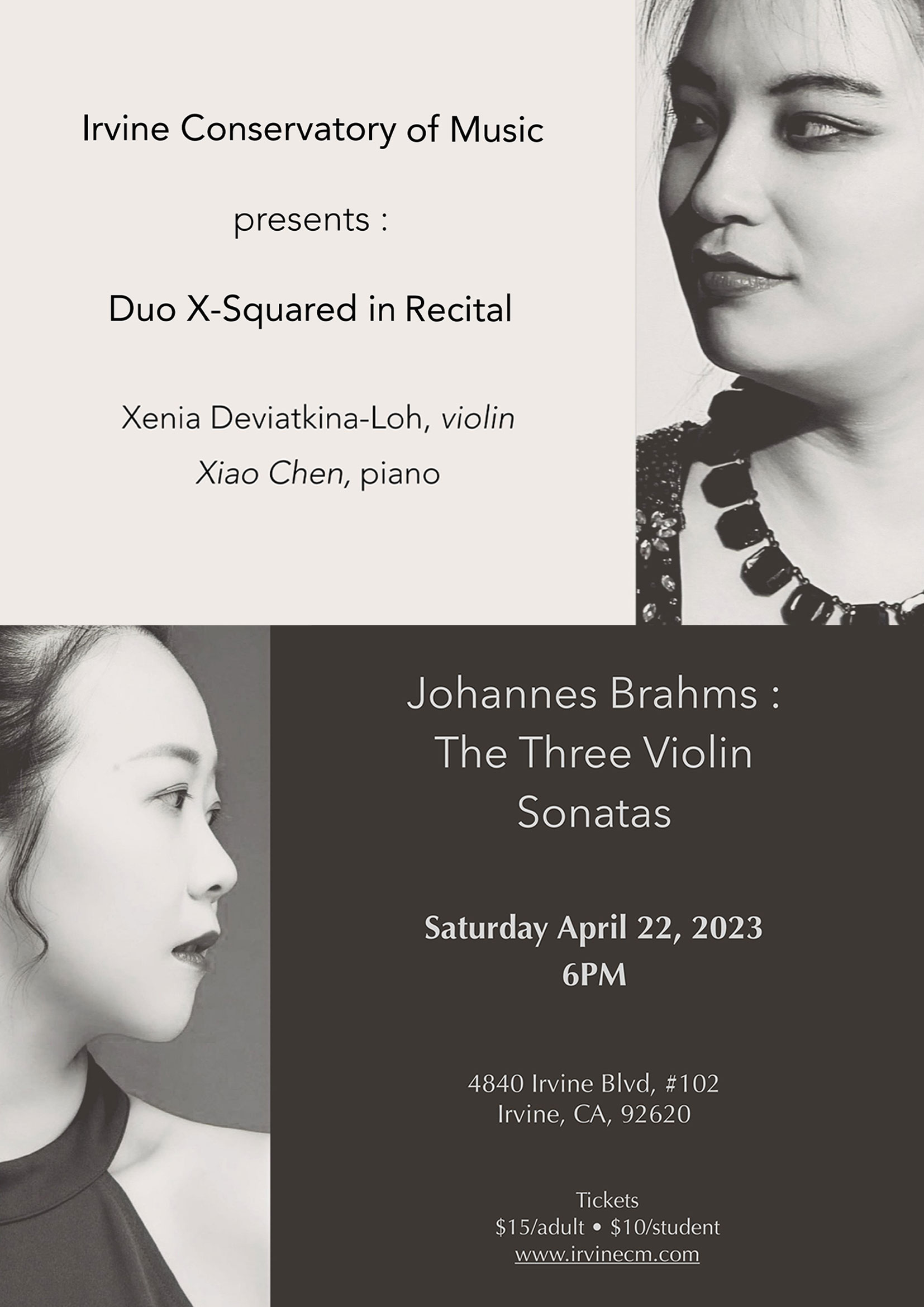 Award-winning pianist Xiao Chen and violinist Xenia Deviatkina-Loh (Duo X Squared) are presenting a duo recital with an exciting program - the complete Brahms Sonatas for violin and piano at Irvine Conservatory of Music on April 22nd, 2023 at 6pm.
Tickets: $15/adult and $10/student
Artists:
Award-winning pianist Dr. Xiao Chen is actively engaged as both a soloist and chamber musician throughout the U.S., China, and Europe. Her performances have been well received by many; New York Concert Review praised her that "she has a strong interest in communicating, and that urge is apparent in performances of expressiveness and purposefulness", while Shanghai Youth Daily said "her energetic and breathtaking performance impressed the audience".
Dr. Chen is currently on faculty at Mount Saint Mary's University, having served as lecturer in Piano Performance at the University of California, Los Angeles (UCLA) in 2019. In addition, She is the music director of Irvine Conservatory of Music, as well as the artistic director of Irvine Conservatory International Music Competition. Dr. Chen has served as a jury member in many piano competitions, including the New West Symphony Piano Competition in Los Angeles, "Pearl River Keyserburg" International Piano Competition, MAP International Music Competition, and Hainan Airline Piano Competition.
Dr. Chen attended Bard College as a double major, receiving her Bachelor of Music degree in Piano Performance under Melvin Chen from the Bard College Conservatory of Music, and her Bachelor of Arts degree in Language and Literature from Bard College. She furthered her studies at The Juilliard School in New York under Jerome Lowenthal, obtaining her Master of Music degree. Most recently, Dr. Chen received her Doctor of Musical Arts degree from UCLA under the tutelage of Inna Faliks.
Dr. Chen released her new solo piano album "Kaleidoscope" with Sheva Collection in 2020, which is distributed on major platforms including Naxos, Apple Music, Amazon Music, and Spotify.
Award winning violinist Dr. Xenia Deviatkina-Loh has performed as soloist and recitalist in various venues across Australia, New Zealand, the UK, the US, and China. She also frequently performs with major ensembles and concert series around LA. As of 2021, she is a member of ECHOI — MEC's ensemble-in-residence. In 2019, Dr. Deviatkina-Loh released her debut album under SHEVA Contemporary. A dedicated pedagogue, she is currently a Teaching Artist at the Beckman YOLA Center. Most recently, she was invited to serve as an Artist and Adjudicator for the International Grand Music Festival in Indonesia. Dr. Deviatkina-Loh received her Bachelors of Music Performance degree at the Sydney Conservatorium of Music, her Masters of Arts degree at the Royal Academy of Music, London, and her Doctor of Musical Arts degree at UCLA.